Asheville Restaurant Week
January 20 – 29, 2015
Come out and dine with us for Asheville's 1st Restaurant Week. We'll be featuring a special menu with 3 Small Plates for $30. Make your reservations online or call us at 828-252-4162. View the menu.
Appalachian Ramps & Preserves: A Fundraiser For The Appalachian Food Summit
Wednesday, April 15, 2015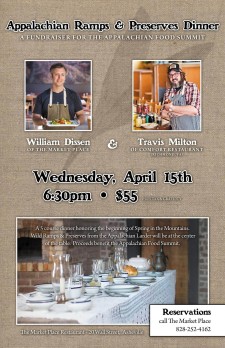 The dinner will be a collaborative effort from Chef William Dissen of The Market Place and renown Southern Chef Travis Milton of Comfort Restaurant (Richmond, VA).
The Appalachian Food Summit is an upcoming gathering on September 26th that is bringing together the best food and heritage minds of Appalachia to discuss the past, present, and future of our Appalachian Foodways.
Chefs Dissen and Milton will be raiding their restaurant larders with preserves, pickles, ferments, and canned veggies from the last year to help build their menu, as well as utilizing the first wild food of the year – RAMPS.
There is an old Appalachian saying, "Tax Day is Ramp Day," and it's a special time of year as the wild Allium Tricoccum is in full harvest in our hills and mountains.
On Wednesday April 15th, please join us for a 5 Course Appalachian dinner.
Tickets: $55/person plus tax and gratuity. Proceeds benefit the Appalachian Food Summit.
Where: The Market Place Restaurant, 20 Wall Street, Asheville, NC
Reservations: Call – The Market Place – 828-252-4162
Time: 6:30 PM
Eating Appalachia by Darrin Nordahl
Thursday, July 7th from 5:30 PM to 8:00 PM
Please join author Darrin Nordahl for a signing of his new book, EATING APPALACHIA: Rediscovering Regional American Flavors. Chef William Dissen at The Market Place will also have special menu items inspired by the book available to taste.
This event is open to the public. For dinner reservations, please call 828-252-4162.