Live Music every Tuesday, Thursday, Friday, & Saturday!
Thursday from 7:00 PM to 10:30 PM
Ben Hovey is playing every Thursday night from 7:00 PM – 10:30 PM. Come & check out his smooth style of dub jazz & beats. His grooves from the trumpet, keyboard, & Moog instruments are sure to not disappoint.
Friday from 7:00 PM to 10:30 PM
The Sean Mason Trio is playing every Friday night from 7:00 – 10:30 PM. This upbeat jazz band will surely soothe your soul. You'll feel like you've been transported to a Prohibition speakeasy.
Saturday from 7:00 PM to 10:30 PM
Live music with a rotating selection of musicians. From DJs to Funk and R&B, there's always great music in our bar & lounge every Saturday night.
Asheville Restaurant Week
January 19-28, 2016
For $30, choose three of the following from our dinner menu.
James Beard Foundation Dinner
Wednesday, February 3, 2016
Tickets now available, click here to purchase now!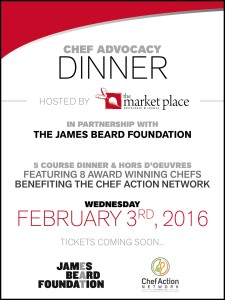 Hors d'oeuvres followed by 5 Courses including Beverage Pairings for $150/person inclusive.
Join us for a special dinner – one night only on February 3rd, 2016 – featuring eight of the best Southern chefs to benefit the Chef Action Network. Hosted by The Market Place Restaurant in Asheville, in partnership with the James Beard Foundation, this unique event will feature unique dishes inspired by the Appalachian region and prepared by Chefs William Dissen, Hari Pulapaka, Katie Button, Annie Pettry, Joseph Lenn, Anthony Lamas, John Fleer and Meherwan Irani. Tickets for the five-course meal, including wine and beverage pairings, are $150 (including gratuity). Proceeds from the event will go to the Chef Action Network, a nonprofit coalition of chefs and culinary leaders dedicated to changing our food system.