Live Music every Tuesday, Thursday, Friday, Saturday & Sunday!
Thursday from 7:00 PM to 10:30 PM
Ben Hovey is playing every Thursday night from 7:00 PM – 10:30 PM. Come & check out his smooth style of dub jazz & beats. His grooves from the trumpet, keyboard, & Moog instruments are sure to not disappoint.
Friday from 7:00 PM to 10:30 PM
Lenny Pettinelli & Friends are playing every Friday night from 7:00 – 10:30 PM. This upbeat jazz band will surely soothe your soul. You'll feel like you've been transported to a Prohibition speakeasy.
Saturday from 7:00 PM to 10:30 PM
Live music with a rotating selection of musicians. From DJs to Funk and R&B, there's always great music in our bar & lounge every Saturday night.
James Beard Foundation Celebrity Chef Tour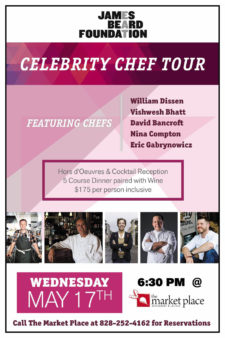 Wednesday May, 17th at 6:30 PM
Join us as the James Beard Foundation's Celebrity Chef Tour comes back to Asheville, and our Chef William Dissen brings in an A-Team of Chefs to create what is sure to be one of the best meals of the year in Asheville.
Hors d'oeuvres & Cocktail Reception followed by 6 Course Dinner paired with Fine Wines
Participating Chefs
Vishwesh Bhatt – Snackbar – Oxford, MS
Nina Compton – New Orleans, LA
David Bancroft – Acre – Auburn, AL
Eric Gabrynowicz – Tupelo Honey – Asheville, NC
Details
Where: The Market Place
When: Wednesday May 17th
Reservations: Call us at 828-252-4162 or online HERE
Price: $175/person inclusive
FORAGE-TO-TABLE: You gather it, we'll prepare it. Learn to harvest wild mushrooms, plants, and more. Bring them to brunch or dinner and we'll turn them into find dining – for free. Book your reservation with us and visit No Taste Like Home to set up your wild foods tour.