Live Music every Tuesday, Thursday, Friday, Saturday & Sunday!
Thursday from 7:00 PM to 10:30 PM
Ben Hovey is playing every Thursday night from 7:00 PM – 10:30 PM. Come & check out his smooth style of dub jazz & beats. His grooves from the trumpet, keyboard, & Moog instruments are sure to not disappoint.
Friday from 7:00 PM to 10:30 PM
Lenny Pettinelli & Friends are playing every Friday night from 7:00 – 10:30 PM. This upbeat jazz band will surely soothe your soul. You'll feel like you've been transported to a Prohibition speakeasy.
Saturday from 7:00 PM to 10:30 PM
Live music with a rotating selection of musicians. From DJs to Funk and R&B, there's always great music in our bar & lounge every Saturday night.
FORAGE-TO-TABLE: You gather it, we'll prepare it. Learn to harvest wild mushrooms, plants, and more. Bring them to brunch or dinner and we'll turn them into find dining – for free. Book your reservation with us and visit No Taste Like Home to set up your wild foods tour.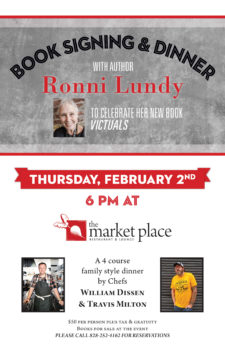 "Victuals, An Appalachian Journey" Book Dinner
Thursday, February 2nd at 6:00 PM
Featuring Author Ronni Lundy and Chefs William Dissen & Travis Milton. View menu and promotion flyer.
4 Course Family Style Dinner.
$50 per person.
Reservations Limited. Please call us at 828-252-4162 to reserve your seats.