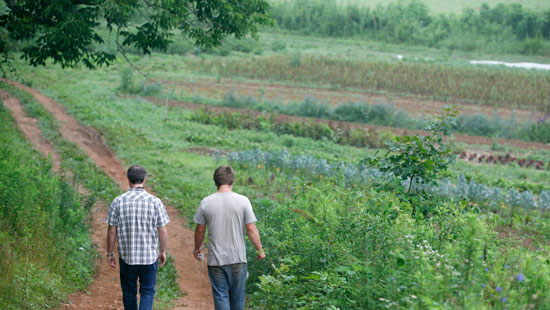 There is no cuisine without gardens and farmers. The words "local" & "organic", seen only in grassroots grocery stores, and markets, 20 years ago, are now common at our local tailgates and farmer's markets, thanks to the demand we've created. This transition to locally grown foods has helped to provide support to local farmers, enhance our regional economy, and rekindle our love affair with great food.
Owner & chef, William Dissen, spent his early days exploring the gardens & barns of his grand parents farm. It was there that he realized the necessity of locally grown food. The fields and farm animals of Appalachia educated him, as a chef and a locavore, to truly appreciate the meaning of "sustainability". These basic needs represent the honor of what we strive for in our daily cooking here at The Market Place.
The tradition of "farm-to-table" is central to our kitchen. Today we are fortunate for the wonderful tailgate markets, which we visit twice a week in season. Also for the other wonderful producers that delivery to our doorstep – Sunburst Trout, Looking Glass Creamery, Benton's Smoky Mountain Country Hams, Gaining Ground Farm, The Culinary Gardener and the local gatherers, like Alan Muskat 'The Mushroom Man'. The circle broadens into Tennessee, now that Tom Michaels is producing Tuber melanosporum in his hazelnut and oak orchards – the Perigord truffle.
Here are few of the farmers & artisan producers we source from in the Asheville area.
Jake's Farm
Haw Creek Honey Apiary
Myco Gardens